ABOUT WHITE SHOE:
Here's a recent podcast interview:
Spoke to a small but enthusiastic group of the Legal History subcommittee of the New York City Bar Association on "White Shoe" on June 19, 2019.
Released on March 19, 2019. Here is the cover:
ABOUT THE SWAMP FOX:
I spoke about The Swamp Fox on Feb. 13 2019 to a crowd of 200 at the Charleston Society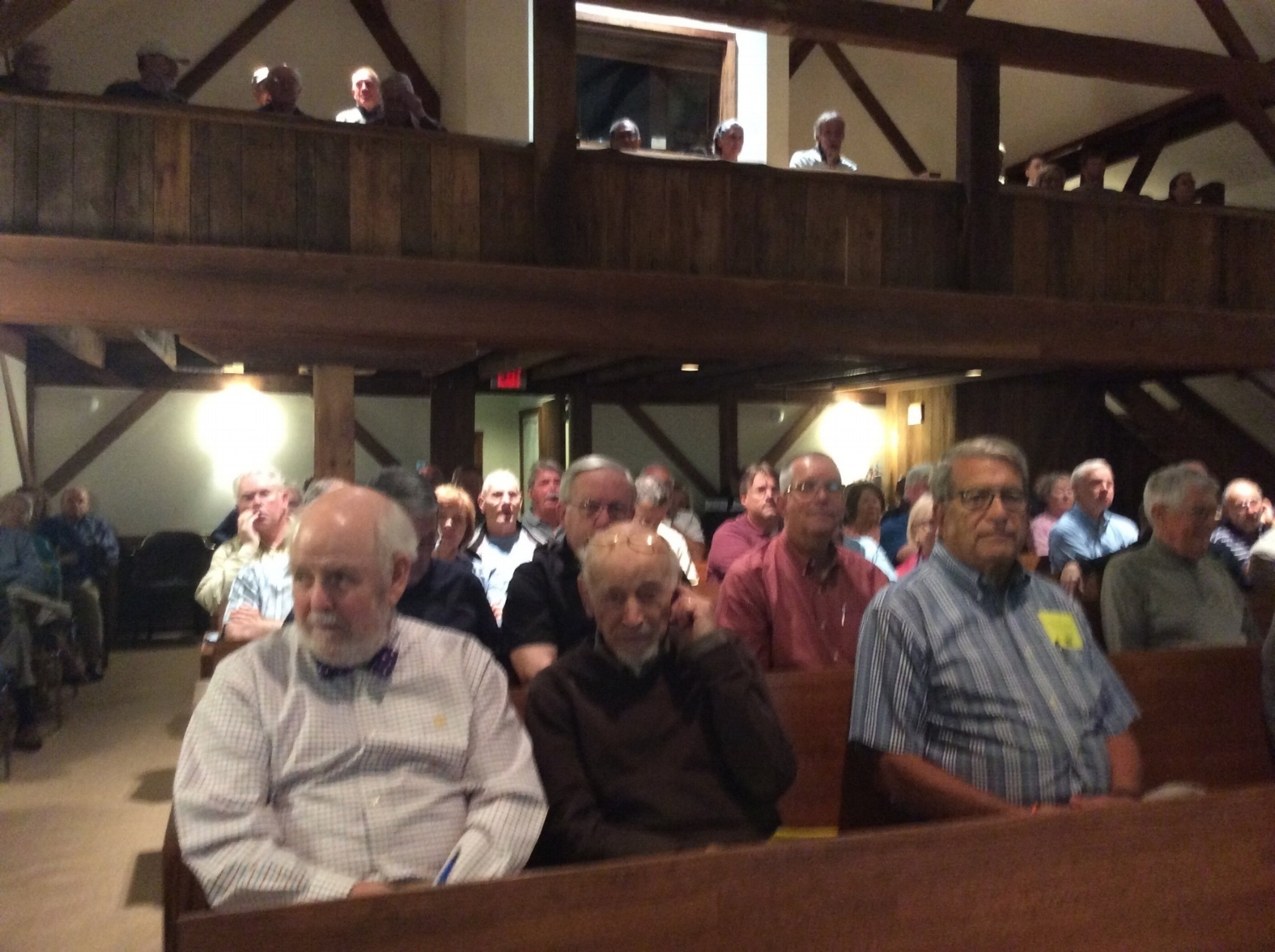 Above: An enthusiastic crowd of 130 showed up at the David Library for Research in the American Revolution in Washington Crossing, PA for my "Swamp Fox" lecture on September 20, 2018.
The paperback is out! Available on Amazon, Barnes & Noble, etc.
Was just advised that the publisher, Da Capo, plans to issue a paperback edition in spring 2018.
Above: D.A.R. in Washington, D.C. where I spoke on "Swamp Fox" on May 12, 2017
On January 19, 2017 I spoke on "Swamp Fox" at Fraunces Tavern (above), the historic site where George Washington gave his farewell military address in 1783
Scenes from the Book Fair at the Buckley School in Manhattan where I was one of the signing authors (November 14, 2016)
I did a reading/signing of "Swamp Fox" at the Barnes & Noble in Columbia, South Carolina on October 20.
Scenes from the annual Francis Marion/Swamp Fox Symposium in Manning, South Carolina where I spoke on October 22 on "A patriot (but not 'The Patriot')"
My new book, "The Swamp Fox: How Francis Marion Saved the American Revolution," has been published in October 2016 by Da Capo Press. Now available on Amazon, Barnes & Noble, and other sites.
ABOUT AMERICAN QUEEN:
A recent podcast about "American Queen" as part of the Ohio history series, "Ohio v. the World":
https://soundcloud.com/ohiovtheworld/episode-8-ohio-v-celebrity
On July 7, 2016 I spoke about "American Queen" to a group of about 60 at the North Shore Civil War Roundtable on Long Island.
June 26: I lectured on "American Queen" to the Narragansett Historical Society
June 7: "American Queen" has been named as one of five finalists for the Ohiana (Ohio Library Association) 2015 book awards, in the category of "by or about an Ohioan." Winners announced in July.
June 6: I participated in a panel on "Civil War Women" at the 2015 Biographers International Organization annual conference in Washington, D.C.
Guest Lecture on "American Queen" in Utica, NY at the Roscoe Conkling home (3 Rutger Park)--May 3, 2015
This is a link to my TV appearance on Books Du Jour:
ABOUT "Jean Arthur":
I was pleased to cooperate with New York governor Andrew Cuomo's office in providing for a "Walk of Fame" plaque for Jean Arthur at the new Adirondacks Welcome Center to open near Lake George this fall (2018). The plaque, which looks like a Hollywood Walk of Fame Star, will be one of the initial plaques to recognize famous persons with connections to the Adirondacks region.
Jean Arthur (Gladys Georgianna Greene) was born in 1900 in Plattsburgh, New York, in the Adirondacks region, and also lived in Saranac Lake, near Lake Placid, as a child.
The new plaque will supplement the one placed in Plattsburgh in 2015 (see below).

Jean Arthur Day and Plaque Unveiling in Plattsburgh, NY May 2, 2015
http://en.calameo.com/read/000257732a73a9d2ad7e1
The above link is to the Lake Champlain Weekly, which did a nice piece on me.
More on American Queen: